The 100 Story Hotel (Nursery – Year 4)
A unique play environment taking children inside celebrated stories.
Discover Exhibition school sessions celebrate some of the UK's most beloved children's books and tales. Pupils will explore stories in a whole new way, discover worlds of imagination and create new stories and ideas of their own to take away.
Visit our current exhibition, The 100 Story Hotel, until February 2023.  
About The 100 Story Hotel exhibition school sessions
Meet Gertie the Gardener as they welcome you to The 100 Story Hotel. The hotel is jammed with adventures beyond your wildest dreams. There's room after room to explore in your teams. There are all sorts of guests; lions and tigers, dinosaurs and bears. Some sausage dogs are having a party on the hotel beach.  
There's just one problem at this wonderful establishment – although the hotel is usually full of 100 amazing stories, one story has just gone missing! This calls for a team of detectives. Can you follow the clues and help solve the case? 
Our new immersive exhibition has been designed by Discover with multi award-winning author and illustrator Rob Biddulph.  
During the sessions, pupils are invited to explore our immersive exhibition space and take part in a facilitated workshop which includes games, stories and craft activities celebrating creativity, individuality and imagination.  
Take a look at our Pre-visit Resource Pack.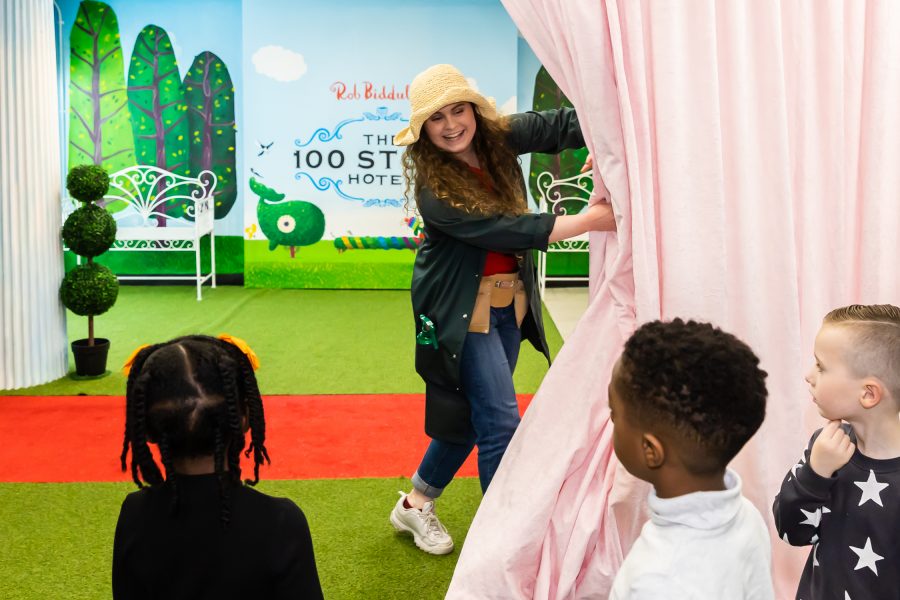 Session times – term-time only
Monday – Thursday
10.15am – 11.45am
1.15pm – 2.45pm
Please note that schools are not permitted to arrive earlier than 9.45am.
Prices
One class of up to 30 children: £180
Two classes of up to 30 children each: £325