Exploring gender equality.
---
Get Started
Go straight to your chosen resource by clicking the quick links below…
---
All Aboard! Comic
Meet Rae. Rae is ambitious, excitable, caring and non-binary and, one day, they're going to be the greatest captain ever to sail the seven seas! Captain Stickles laughs at Rae's ambition – on his ships 'there are jobs for men, and there are jobs for women…' But what happens when a storm hits and it's all hands on deck?
An original story written by Lizzie Corscaden, illustrated by RAMZEE.
Read here (full screen recommended) | Download PDF (2mb) | Back to session list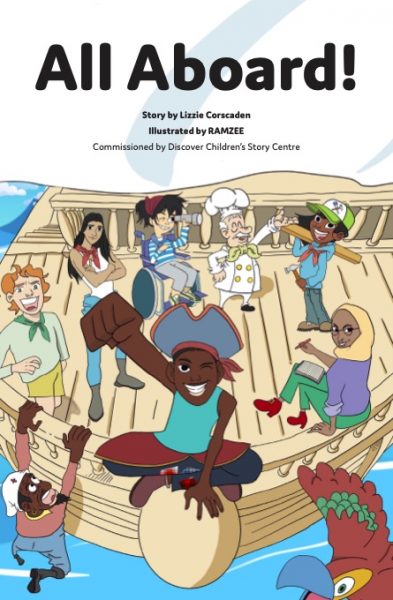 Read comic via link above.
---
All Aboard! Storytelling
A storytelling performance of Lizzie Corscaden's original story, performed by Discover Story Builders Laura Sampson and Arkem Mark Walton. Filmed and edited by Barnes Film Academy.
---
Design Your Dream Ship
Colour your ship in any colour, design a flag to fly from the mast and draw in your own captain to take the wheel. Then, write a list of all the activities the crew can do on your ship.